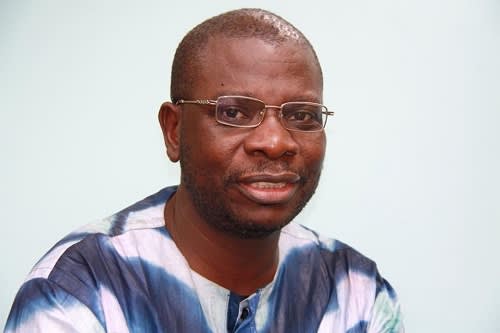 Born in Kinshasa, on 4 March 1959, the artist, painter, muralist and sculptor Roger Botembe received many prizes and awards over his career. A painter of life's deeper sides, he believed that life is essentially about movement and mystery. He observed, surprised and translated life through increasingly enigmatic shapes, which his colour pallet defined and dissolved somewhere on the fringes of figurative and abstract art. As a founder of trans-symbolism, Botembe transcended the tradition by developing his painting through the exploration of signs and symbols taken from traditional African sculpture and masks a departure noted as the 'Renaissance of contemporary African art.'
Botembe benefited from a long and substantial artistic formation furthered by numerous travels to foreign countries including the National Art Institute in Abidjan, and his admission to the Beaux-Arts in Brussels. Throughout his career, he exhibited far and wide gaining recognition and acclaim including an Award of Excellence from the City of Brussels and Gold Medal from the Belgian Government to name but a few.
In 1992, he founded Ateliers Botembe, a Congolese school of contemporary African art. He was Associate professor and head of the Arts-Plastiques section at the Académie des Beaux Arts in Kinshasa and director of International Cooperation and Promotion at the Institute of National Museums of Congo since 2006.